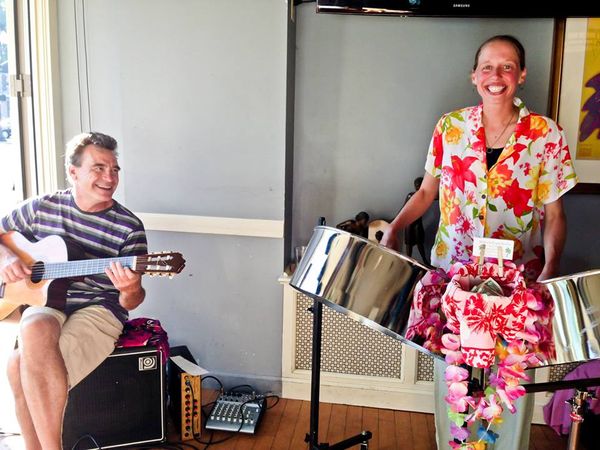 0:00/2:28

0:00/3:38

0:00/6:19
Check out Erynn on solo steel drums! Taking the steel drum places you never thought it'd go...  I eat, sleep and breathe the steel pan.  This is my passion!  Let me let YOU fall in love with the steel pan too!  
Call or text me at (234)248-9082 or email at wekrebs@wekrebs.com
or
Find/book Erynn on Gigsalad!   (FYI: Gigsalad adds a nominal booking fee)
Wilbur Krebs is a freelance bass player and guitarist who also plays the lead pan and builds/tunes steel drums.
We also perform regularly as a steel drum duo and/or steel drum and acoustic guitar duo.  We bring the party or the mellow atmosphere everywhere we go!
We are also Dog Friendly!  A little bit of this and a little bit of that with plenty of quirk to make it work!  An eclectic mix of jazz, funk, rock, and world music...  Unruly originals with a few reworked covers to round out the mix.  An upbeat duo of Wilbur on guitar and vocals with Erynn on steel drums and bass!
Have you seen us with Founds Sounds?
See you soon,
WE Krebs